Taste of Philly....... If you need a great sandwich anywhere in the lower 48 states, you need our Best of Philly package Cheesesteak, hoagies, roast pork and broccoli rabe, tastykakes, peanut chews, vegan, gluten free, .....mailed to your front door the next day! Try our most popular... "best of Philly package"! Great gift for Active Military gifts, college students, sports fans
Are you craving a Philly cheesesteak but unfortunately not anywhere near Philadelphia? Are you in desperate need of a reputable place that ships Philly cheesesteaks? Turn to Campo's! We'll ship our cheesesteaks anywhere in the United States. That's right—you'll be able to dig into our mouthwatering cuts of rib-eye with provolone cheese or cheese whiz, all nestled in Liscio's Bakery's famous bread rolls states away. But don't worry, we're not just throwing it in a brown bag and dropping it in a post office collection box. Our (soon to be your) sandwiches are made-to-order and kept nice and cool to preserve the natural flavor and ensure freshness upon arrival. When you unwrap and heat it, the taste will transport you to America's birthplace from the first bite to the last! If you're on the hunt for places that ship a Philly cheesesteak, look no further than the best, and contact Campo's today!

Shipping a Philly Cheesesteak
You can rest assured that the same high quality you'd get in our restaurant is the same as it is in the cheesesteaks we ship all around the nation. You'll even get to customize it, too! You can go with any of the classic fixings, condiments, and cheeses, as well as opt for a vegan cheesesteak with a gluten-free roll. When you're looking for a dependable place to ship a Philly cheesesteak, no one delivers authenticity like Campo's. Maybe you've got a friend or sibling who lives states away who always tells you how much they miss a Philly cheesesteak. Or perhaps you know someone who's never been to the city, but wants to get a "taste" of this particular East Coast cuisine. Whatever the case may be, our Philly cheesesteak shipping option is an excellent opportunity to spread Brotherly Love and give the gift of one (or a few) of our best, most delicious menu items.

We're Not The Only Ones Who Love Our Cheesesteaks!
Not quite convinced we're the number one choice for places that ship a Philly cheesesteak? Check out our reviews on goldbelly.com and see for yourself. From delivering Philly ex-pats the comforts of home to satisfying the curiosity (and taste buds) of those who never got the chance to visit us in person, you won't get a better experience anywhere else! Still not convinced? Ask the Philadelphia Phillies how good our cheesesteaks are! Since we opened our doors in 1947, we've become the official cheesesteak of Citizens Bank Park. We're excited to feed Philadelphia's sports fans successfully, and we hope you can be next in line. We're more than a place that ships a Philly cheesesteak; we've got an extensive menu full of other delicious Philly favorites! We've made some of them available for shipping as well, including our hoagies, roast pork sandwiches, and vegan cheesesteaks, including the option of gluten-free rolls.

But Wait, There's More!
While we're proud that we can ship cheesesteaks to hungry customers across the country, we have other ways of getting our delectable menu items right here in Philly. You can order delivery, speak with us about custom traiteur, and even commandez en ligne. With Campo's, eatin' good has never been so easy!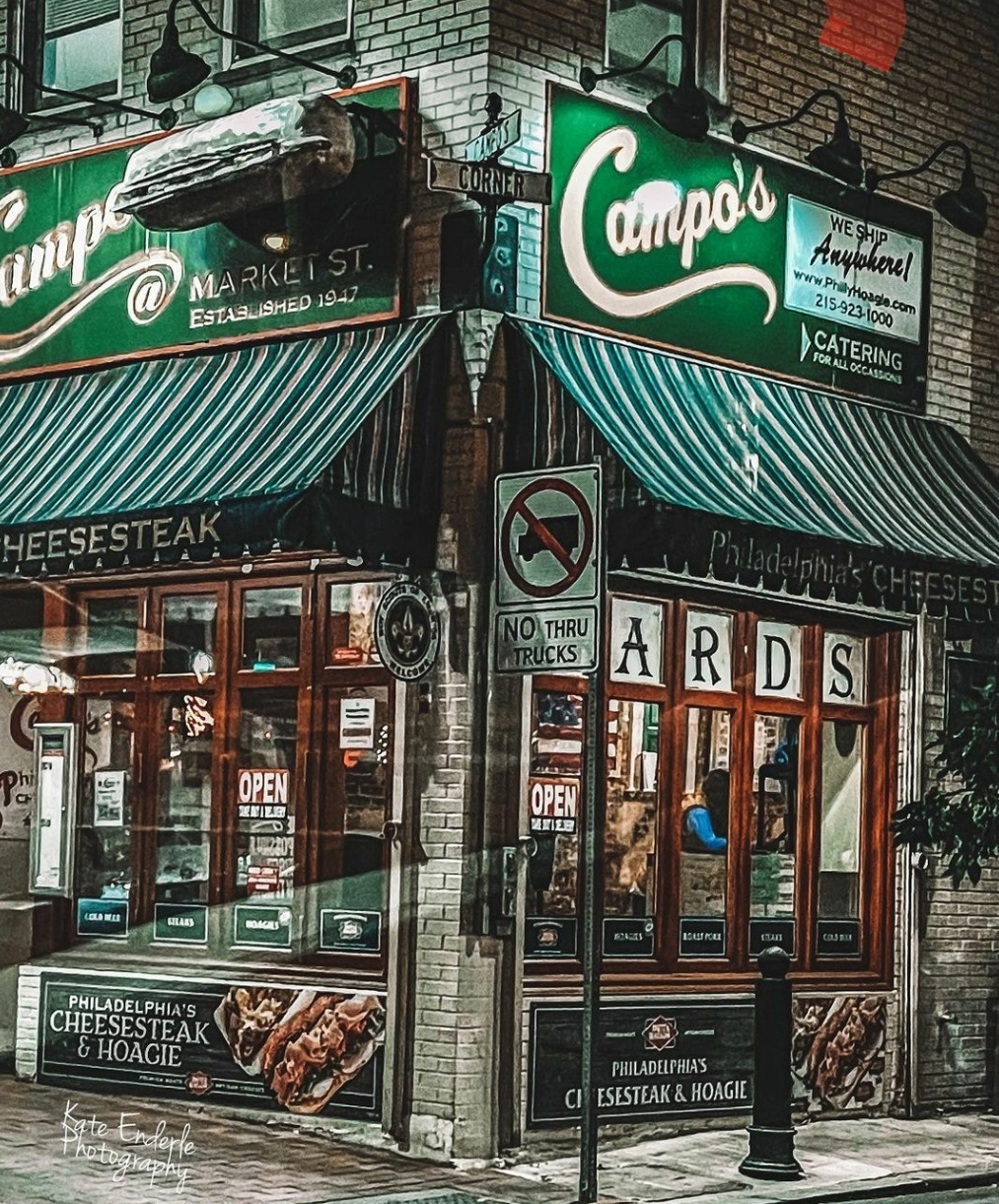 Family-owned and operated
Official cheesesteak of the Phillies
Tailgate
Cheesesteak, Hoagie, Roast pork, Vegan, gluten-free options
Places that ship a Philly Cheesesteak from Philly.