"Stopped in on our trip to Philly to have our first Philly Cheesesteak experience and it did not disappoint! Fast service, yummy food, and great outdoor dining!"
Best Philly Cheesesteak in Philadelphia
Philadelphia is famous for cheesesteaks — and here at Campo's we make our claim to sell the best cheesesteaks in Philadelphia!
The best cheesesteak in Philadelphia? That's a bold claim! Many restaurants say they make a good sandwich but only Campo's is recognized as the official cheesesteak of the Philadelphia Flyers and the official cheesesteak of the Philadelphia Phillies.
Flyers Ice Steak — Rib-eye steaks inside a roll covered in Philly cream cheese and fresh tomato. Then hot pepper cheese is melted on top! This is the Official Cheesesteak of the Philadelphia Flyers!
The Heater — Rib-eye steaks and jalapenos are cooked in Buffalo wing hot sauce and covered in jalapeno cheddar. POW! Proudly served at Citizens Bank Park.
What makes a great cheesesteak? It's a combination of factors: the meat, the cheese, the bread, and of course the toppings!
Authentic Cheesesteak Meat
Let's start with the meat: If you're a traditionalist, you'll order up the regular beef cheesesteak and be treated to a generous serving of thinly sliced ribeye steak that's as tender as it is flavorful.
If chicken is more up your alley, the all-white chicken fillets will make your day, grilled and sliced to perfection. Vegetarians will leave happy too; the vegan and vegetarian cheesesteaks are made using Vegadelphia Foods' delicious plant-based proteins.
Cheese
Next, what's a cheesesteak without cheese?
As a true Philadelphia cheesesteak establishment, Campo's offers your choice of Whiz —- go for Cooper sharp cheese, American, Provolone, Swiss, or Jalapeno Cheddar hot pepper cheese. There's vegan cheese too, for those who want it. No matter what cheese you pick, Campo's knows what to do with it: Layer it on top of the sandwich with a heavy hand, and wait for it to melt before piling on the toppings and handing it off to you.
Bread
Without the right roll, the whole cheesesteak falls apart.
At Campo's, you have your choice of seeded Italian bread, regular Italian bread, a vegan roll, or a gluten-free roll. All the options are fluffy, but still sturdy enough to hold the best Philly cheesesteak in Philadelphia together until the last bite.
Oh, and did we mention delicious? The breads are baked by local companies, and they are guaranteed to be fresh and soft—the perfect platform for the best cheesesteak in Philadelphia. An authentic cheesesteak made with 70+ years experience!
Toppings
Toppings are what separate good cheesesteaks from great cheesesteaks — and Campo's offers a plethora of options to make your mouth water!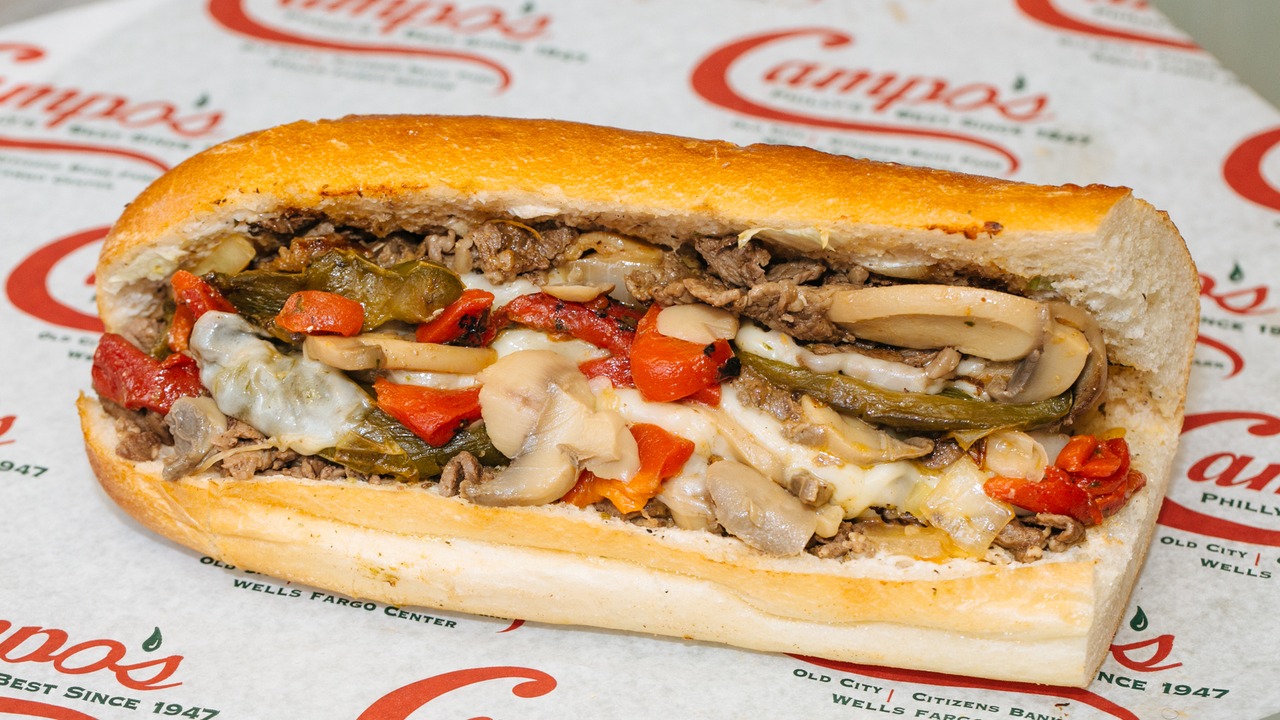 Go for the traditional "Wit Wiz" with grilled onions and Whiz. Or try one of Campo's mouth-watering creations, like the Flyers Ice Steak (served at Flyers games), with Philly cream cheese, fresh tomato, jalapeno, cheddar, and oregano.
You can also sample The Works, with sweet bell peppers, mushrooms, grilled onions, and provolone. Or go for the Pizza Steak, one of the most popular cheesesteaks on the menu, smothered in homemade marinara sauce and covered in provolone cheese. You can even slip a little broccoli rabe into the mix for the Italian Cheesesteak.
However you like your cheesesteak, you can't go wrong because Campo's uses only the freshest, tastiest ingredients in town. This is what allows us to serve up the best cheesesteaks in Philadelphia PA!
Heart
Campo's couldn't make the best cheesesteak in Philadelphia without one final ingredient: heart.
Campo's legacy started in 1947, and our dedication to quality and personal service makes everything that comes out of the deli's kitchen taste that much better. It's what makes so many diners come back to Campo's over and over again.
Put those ingredients together and you have a five-star cheesesteak, so good you may want to order a second right then and there. Whether you're a visitor looking for an authentic Philly experience, or a local eager for a taste of home, Campo's classic Philadelphia cheesesteaks will fit the bill, delivering exactly what you crave.
Come see why Campo's is truly a famous Philly cheesesteak!
Hoagies and Philly Favorites
Campo's is famous for more than just our Philly cheesesteaks — we have a full menu of hoagies, sandwiches and other Philly favorites made to satisfy!
Our Roast Pork sandwich is the 3rd most popular sandwich in Philly. Pork shoulder is slow roasted for eight hours and pulled apart with a spoon before getting a dose of provolone and your choice of peppers and rabe or spinach.
The Italian Special is the hoagie that made Campo's famous. Made from Dilusso salami, ham capicola, peppered ham, pepperoni, prosciutto and provolone, this sandwich is guaranteed to make your mouth water!
Campo's Mama Mia is an old-style hoagie with ROBUST taste! Sharp Provolone, hot sopressata, old-fashioned capicola, and hot or sweet roasted peppers.
Homemade Specialties
Campo's Meatballs — Our own family recipe from the finest, freshest ingredients with provolone. Made the same for 72 years!
Campos also makes our own fresh salad dressings: Basil vinaigrette, honey vinegar, caesar made in house. Great for anyone of our fresh salads!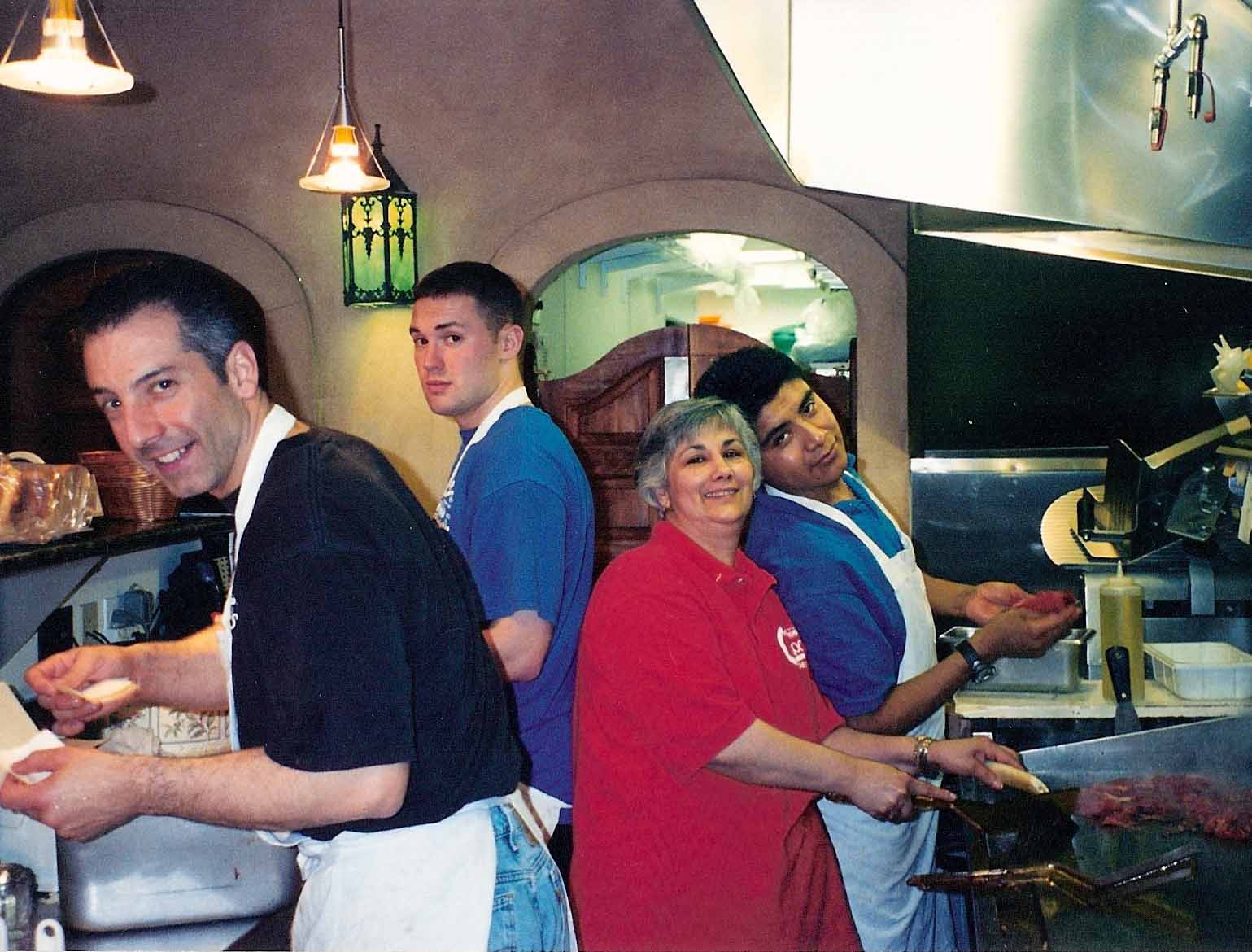 Vegan and Vegetarian
Campo's is proud to offer an assortment of vegan, vegetarian and gluten-free options for many of our classic menu items. We source from brands like Vegadelphia, Impossible, and Taffets local gluten free bakery.