We use 100% grass fed domestic rib-eye steak. It is perfectly marbled and has a phenomenal taste! The bread is baked fresh daily, and then we add 75+ years of experience, and you get an authentic cheesesteak.
Campo's legacy started in 1947, and our dedication to quality makes ours the Best cheesesteak in Philly. Located on America's most historic mile, Campo's Deli has an indoor dining room and outside seating on our sidewalk cafe. We offer a kids menu, and have a rotating list of about 15 beers ranging from locally brewed craft beers, to the oldest brewery in America!
An authentic cheesesteak made with 75+ years of experience! Millions of sandwiches sold, thousands shipped, this is the Best cheesesteak in Old City! So stop in and have a steak and a brew.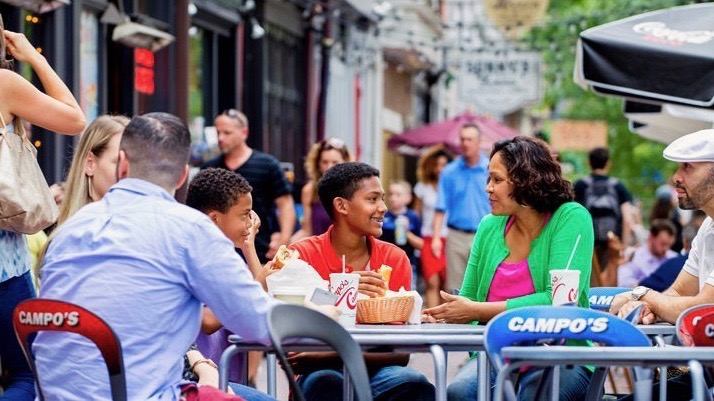 Specialty cheesesteaks,
If you want a 1 of a kind cheesesteak, The Stockyard cheesesteak comes with chicken, and is cooked in all the oily goodness of pepperoni, bacon, and fried onions. Not to mention the mascarpone cheese spread on the roll.
The Heater is the official cheesesteak of the Philadelphia Phillies. Ribeye steak and jalapenos are cooked in Buffalo wing hot sauce and covered in jalapeno cheddar.
You can taste the grass fed difference in our Cheesesteak and eggs breakfast sandwich!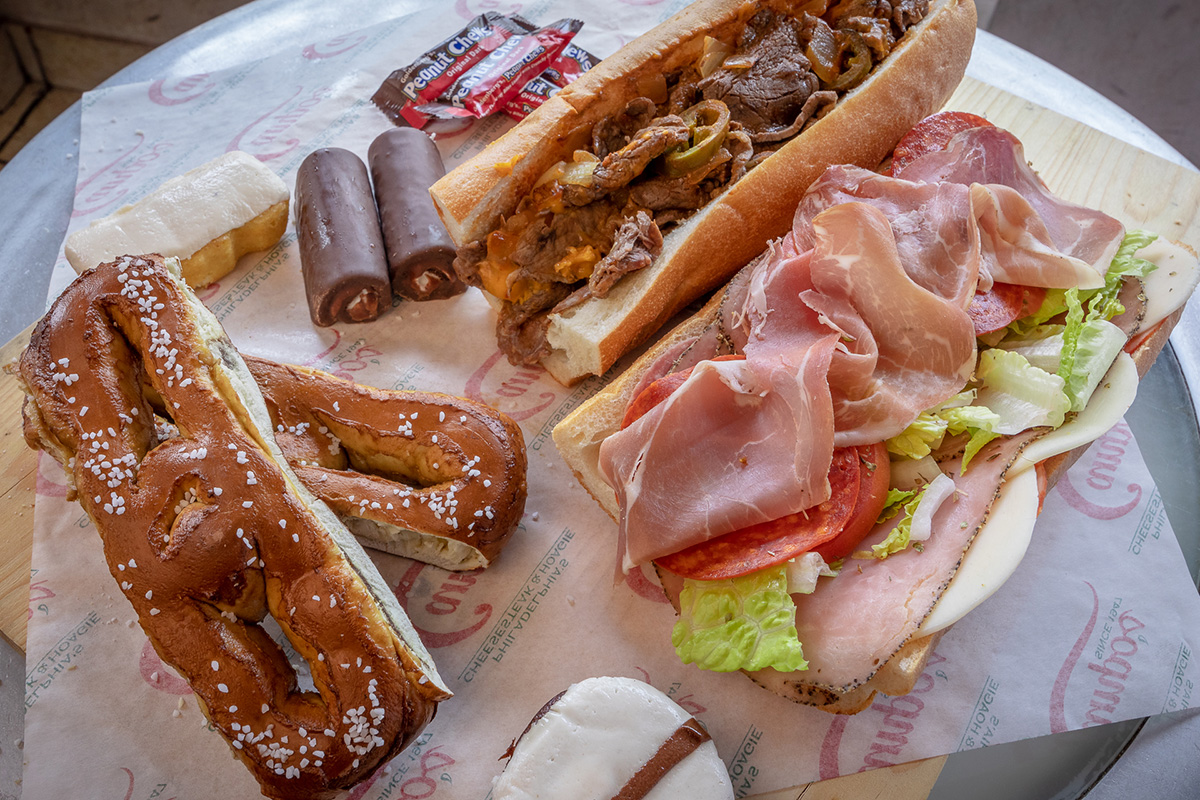 All the classics….. Famous hometown food
The Hoagies that made us famous, rib eye cheesesteaks, roast pork black angus burgers, and Cooper sharp cheeseburgers!
In 1992 then-mayor of Philadelphia Ed Rendell declared hoagies the "official sandwich of Philadelphia", and Campo's diverse menu of hoagies and sandwiches will make you understand why!
The Italian Special is the hoagie that made Campo's famous. Made from Dilusso salami, ham capicola, peppered ham, pepperoni, prosciutto and provolone, this sandwich is guaranteed to make your mouth water!
Campo's Mama Mia is an old-style hoagie with a ROBUST taste! Sharp Provolone, hot soppressata, old-fashioned capicola, and hot or sweet roasted peppers.

Homemade specialties
In the back of the house….our kitchen is turning out hearty soups, broccoli rabe, salad dressings, cannoli, long hots, and the best meatballs and red gravy you will ever have!
Our original Roast Pork is Philly's true gift to the sandwich world! It may not get national recognition, but locally the fanbase is die-hard! Campo's pork shoulder is slow-roasted for eight hours and pulled apart with a spoon before getting a dose of provolone and your choice of peppers and rabe or spinach.
Gluten free cheesesteaks philadelphia
Local Beer and Favorites
Finding good partners is the key to success in anything: in business, in marriage, and, especially, in food. The beer and beverages we serve at Campo's are all sourced from our local Philly partners, including Yard's Brewing Co. Yuengling and Liberty Coke.

"Campo's has vegan options, gluten-free alternatives, and dairy-free cheese so everyone can still try one of our award-winning cheesesteaks!"
We even have gluten free dessert and gluten free beer!
As seen on the Foot network, Campo's Best of Philly